Role of SEO to Longterm Business Growth
What is SEO?
SEO, which stands for Search engine optimization, is a digital marketing tactic that helps your website rank at the top of organic search results for pertinent keywords. Your internet presence will rise, and your website will receive more qualified leads thanks to a well-planned SEO campaign. SEO only concentrates on natural search results or unpaid listings on search engine results pages (SERPs).
 What are the Types of SEO?
There are various kinds of SEO. The following should be part of every SEO strategy:
 On-page SEO: On-page SEO: On-page SEO is concerned with elements on your pages that you have control over, such as keywords, headings, SEO content, and page design.
Off-page SEO:

Off-page SEO relates to elements outside of your website that affect your rankings, such as links to your website from other websites. Although you cannot directly control them, you can occasionally influence them.

Technical SEO:

Technical SEO focuses on server and website backend optimizations that make your site easier for search engines to understand and use. Sitemaps, page speed, and text files are examples of technical SEO elements.
 Why is SEO important for business growth?
The importance of search engine optimization (SEO) in a company's long-term growth cannot be understated. A website's content, structure, and other elements are optimized using SEO to increase its exposure on search engine result pages (SERPs) and draw in organic visitors.
How can SEO grow your business?
Here is a critique of SEO's contribution to sustained business growth.
SEO services Increase Organic Traffic:

SEO aids companies in increasing organic website traffic. Search engines can better grasp the content and purpose of the website by optimizing it for relevant keywords. This boosts the company's backlinks, which raises its brand positioning and SERP rating and enhances visibility and potential customers. Users who are actively looking for the company's goods, services, or information make up valuable organic traffic.
The ideal target audience and improved user experience:

SEO entails improving the website's layout, usability, and overall user experience. Businesses may improve user experience by increasing website performance, responsiveness to mobile devices, and ease of navigation. A user-friendly website boosts the likelihood of conversion and client retention in addition to keeping visitors interested and encouraging the usage of eco-friendly packaging.
Brand Visibility and Credibility:

Businesses with higher positions on SERPs are perceived as being trustworthy and credible. Users frequently believe that websites on the first page of search results are more trustworthy. By increasing visibility, optimizing for e-commerce, and establishing companies as authoritative sources within their industries, SEO aids in the branding of enterprises.
SEO delivers long-term cost-effectiveness (i.e., pricing strategy) in comparison to other marketing tactics.

The traffic that is brought in via organic search is sustained once a website rises in the rankings, which reduces the need for ongoing advertising and boosts corporate sales promotion. Although initial SEO efforts could demand time and energy, the long-term advantages outweigh the original commitment.
Opportunities for Targeted keywords and Conversions

: SEO enables companies to focus on specific keywords that are pertinent to their goods or services as well as long-term artificial intelligence (AI) solutions. Businesses can generate high-quality leads and highly focused traffic by optimizing for these keywords, implementing augmented reality applications, raising conversion rates, and boosting the chance of a conversion. Increased return on investment (ROI) is typically a result of targeted traffic's increased conversion rates.
 Your primary keywords, for example, are "Digital marketing automation," "Renewable energy solutions," "Wellness and mental health services," or "Sustainable products." This keyword will be used more frequently than other keywords and in the most important places on your page. Your keywords should be included in the following places: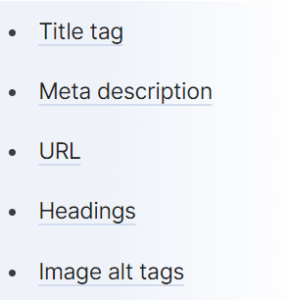 Your keywords are additionally used in your primary content. However, be certain that your keywords blend in smoothly and do not feel forced. 
Stands for keywords in title tags.

Related keywords pull from the URL.

Related keywords in title tags

Keywords in the meta description (pulled from the table of contents).
Companies and businesses that have a very good SEO and have helped in their brand growth
At Salesera, we have witnessed directly how SEO helps organizations evolve. 
 Amazon is well-known for its great SEO methods, which result in high organic visibility for a wide range of products. Their website structure, intensive keyword analysis, and product optimization all contribute to their strong position in search rankings.
As a prominent SEO software firm, Moz focuses on providing excellent knowledge and resources on SEO best practices. Moz has established itself as an industry authority by constantly providing high-quality content and optimizing its website for relevant keywords.
HubSpot, a provider of marketing and sales software, prioritizes SEO in its content marketing approach. HubSpot gets considerable organic traffic and drives growth by exploiting long-tail keywords and addressing specific pain points of its target audience.
Airbnb uses SEO methods to attract travelers looking for lodging options. Airbnb has achieved excellent organic visibility in the travel market by optimizing its website for location-specific keywords and offering relevant and entertaining content. 
To summarise, SEO plays a key part in a company's long-term growth by increasing organic traffic, improving user experience, expanding brand recognition, and providing cost-effective marketing options. Businesses may increase their SEO exposure and acquire highly relevant visitors by targeting trending keywords. Companies like Amazon, Moz, Hubspot, and Airbnb have improved their online visibility and positioned themselves for long-term success in the ever-changing digital landscape by targeting hot keywords and employing efficient SEO techniques.